Automotive Window Tinting Jackson MI
Automotive & Car Window Tinting provided by Tint Masters!
---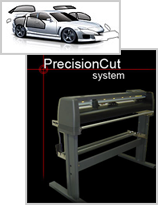 Click Here To Visit Tint Master's Website
Tint Master's automotive window tinting adds visual appeal to your vehicle, prevents glare, helps preserve your car's interior, and keeps your automobile cool and comfortable. We tint a variety of makes and models, including limousines, large trucks and specialty vehicles. Our window film allows GPS, cell phone and radio signals to freely pass through; nothing will be blocked … other than 99 percent of UV rays!
We use a state-of-the-art, computerized, precision cutting system to cut our film. This ensures each tint piece is accurately cut in the exact shape of your window – every crack of light is sealed, and every corner is perfectly rounded. This also ensures that razor blades aren't used on your car!
We carry a variety of films that will complement the unique style of any car. All of our brands come with a lifetime limited warranty that covers any large imperfections, peeling, cracking, discoloring or delaminating.